Back to all posts
Posted on
Information item added to June 12 Division School Council agenda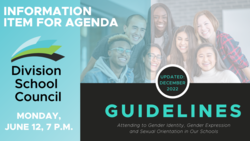 Lethbridge School Division's Sexual Orientation, Gender Identity and Gender Expression (SOGI) policy and procedure will be one of the information items on the regular agenda for the June 12 Division School Council meeting.
The Division School Council requested the agenda item for information. The purpose of Monday's meeting item is to provide background on the development of the SOGI policy and procedures.
Please note, this will be an information item only. It is intended to bring parents up to date regarding changes made to the Procedure (Guidelines) in December of 2022.
The meeting context and time allotted on the agenda does not allow for a question-and-answer period.
The PowerPoint and detailed outline of the information that will be presented has been posted on the Division School Council page on the Community Engagement website: SOGI.
Back in 2015, at the request of Division School Council, the Board of Trustees began to explore a SOGI policy, which resulted in the formation of a draft policy.
Numerous feedback loops were created, which included a parent information session, attended by 130 community members, and a community meeting, where over 1,000 people were in attendance.
From that meeting, four community members were elected to sit on a subcommittee, tasked with developing recommendations for the Board to consider regarding the new policy.
Second and third readings of the policy were passed in April of 2016. The Division's Policy Advisory Committee reviewed the policy again in 2018, and revisions were made to align the policy with the School Act.
The SOGI procedure guidelines, intended to assist schools in creating welcoming, caring, respectful and safe environments for all students, families and school staff, were developed in 2019, and updated in 2022.
Genny Steed, the School Board Trustee who is this year's Board representative for the Division School Council, indicated the Board will be meeting to have a discussion regarding next steps.